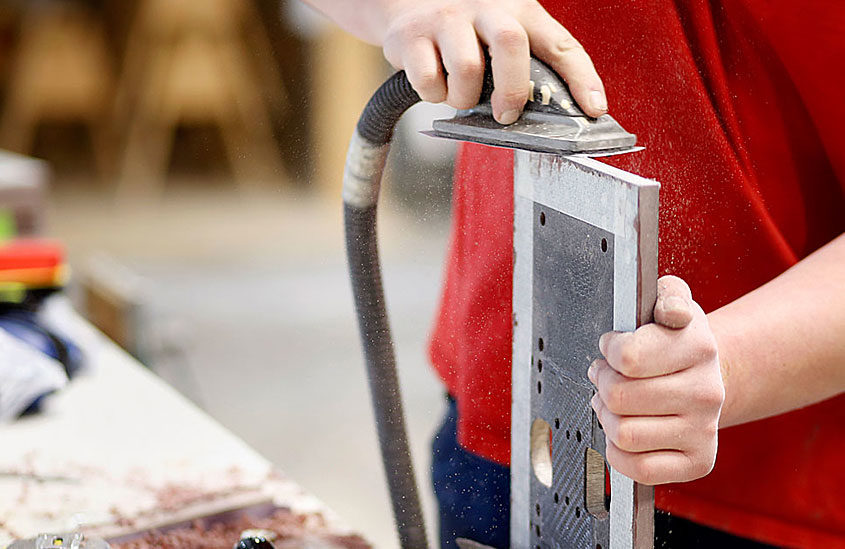 Today, automated manufacturers are experiencing a revolution in the output of their machines by replacing aluminum with a composite matrix. And these new, innovative machines are demonstrating measurable improvement on ROI.
Ask Bob Bartlett, lead engineer for Engineered Automation of Maine (EAM). He first observed an efficient, lightweight end-of-arm tool while visiting the manufacturing facility of a Fortune 500 company. He was surprised to learn that the lightweight carbon fiber tooling plates were made by Custom Composite Technologies—a Maine company in his own backyard. He was told by production managers that product reliability, expertise, and service had cemented a longstanding partnership between their company and Custom Composites.
Bob contacted Steve Hassett in 2013 with a napkin sketch of their aluminum end-of-arm tooling. The first carbon fiber arm was built and the cycle time of the mold opening was reduced by 20% (from 1.5 seconds to 1.2 seconds).
Steve and Bob went back to the drawing board and reduced the weight of the arm again, without compromising the integrity or performance of the machine. During the last set of molds, fabricated in 2017, the cycle time had been brought down to one second, an additional 17% increase in output.
Custom Composites continues to fabricate custom carbon fiber tooling plates for that Fortune 500 company and now, EAM. We welcome inquiries from innovative companies looking to improve their product performance through the application of composite materials.